Cervical screening saves at least 2,000 lives each year in the UK. The screening test helps to prevent cervical cancer by picking up on changes in the cervix which could increase the risk of cervical cancer and offering further tests to those who need them. It is during this time of further tests that any changes in cells, which could develop into cancer if left untreated, can be removed. Cervical screening is available to women and people with a cervix aged 25 to 64 in England.
A smear test is not done to find cancer – it is done to prevent cancer!
A smear test lasts 5 minutes. The impact of cervical cancer lasts a lifetime. Attend your smear test. Reduce your risk.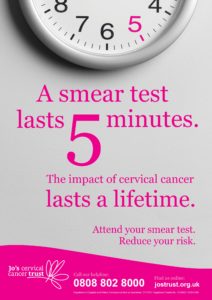 Please do not hesitate to book your appointment to have this important test. Our Practice Nurses will explain everything to you and will make sure to answer any questions you may have. Our Patient Advisers are waiting for your call.